Introduction
Hue is located in the middle of Vietnam. Being one of the UNESCO-listed places, the Ancient Capital of Hue attracts numerous visitors worldwide every day. The best way to get here is by airway, of course! Conveniently, Hue has its own airport – Phu Bai International Airport (PIA), so visitors can arrive at the city directly. Or, you can land at Danang airport, which is also an international airport and is about 2 hours of car driving away from Hue center.
And if your trip happens to be a spontaneous one, or you haven't any plan regarding what to do in Hue, take a look at this article because we have many great suggestions for you!
What to do in Hue – Famous Tourist Attractions
Lang Co Beach
Set in Thuy Thanh Commune, Huong Thuy Ward, and against a backdrop of the Annamite Range's foothills, Lang Co beach spreads 8-9km out on a spit's eastern side. Said spit is sandwiched between the Eastern Sea and a lagoon.
It's quite fortunate that Lang Co Beach is one of the most accessible beaches in Vietnam while being one of those least visited ones. It isn't because this place is dangerous or anything! The beach is only generally overlooked by holidaymakers who're in too hurried to go north or south. But thanks to that, the exquisite site can retain its pristine condition: the water here is crystal, and the sand is very clean.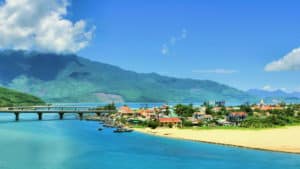 The Ancient Capital of Hue
The construction of the ancient capital – also called Imperial Citadel, Hue Imperial City, or The Forbidden City of Hue, is located in Thuan Hanh Ward. It's opened every day, and no entrance fee required.
This historical place was once the exclusive home of the royal family of Nguyen Dynasty. Much of this Imperial City was structured during Emperor Minh Mang's reign. The ancient city is well protected by a sequence of four, 7-to-21-meter thick outer walls. Since this is a walled city of the royal, it contains a series of decorative halls and palaces, residences, royal libraries, and even colleges. Guests can access to the city via the Ngo Mon Gate, which was built in 1834 and is one of the four main arched gates lead to the inner city.
Much of the historic structure, including the majestic palace, was badly damaged in vicious battles during the 1968 Tet Offensive, but the scrupulous restoration is still ongoing. Visitors can spend a whole afternoon discovering the grounds of the Imperial Citadel while meticulously admiring the age-old architecture and scars left during recent battles.
The Royal Tombs
Among other things, Hue is also famous for its magnificent tombs of the Emperors of Nguyen Dynasty. There're 10 royal tombs in total. All of them were beautifully, painstakingly constructed and – most importantly, still stand to this day. Out of which, the most stunning ones are the resting places of Emperors Khai Dinh, Minh Mang, and Tu Duc. The sites welcome visitors every day, on specific time frames, and there's a small entrance fee required.
Emperor Minh Mang's Tomb
Also known as Hiếu Tomb. The mausoleum took 3 years to complete. And though Minh Mang – the Second Emperor of the Nguyen Dynasty, passed away four months after the construction of the tomb was started, it is said that the process to find an appropriate burial site for him took 14 years. Upon arrival, it's understandable why they picked this location.
The Emperor's tomb is situated at Huong Tho Ward, Huong Tra District and is surrounded by an artfully landscaped garden – which makes it a blissful and tranquil place. The site is said to be one of the most typical examples of the artwork and architecture in the Nguyen Dynasty.
Emperor Tu Duc's Tomb
Also known as Khiêm Tomb. This tomb belonged to Tu Duc, who was the Fourth Emperor of the Nguyen Dynasty. It is located in Thuong Ba Village, Thuy Xuan Commune – an area surrounded by rolling hills and pine forest 7km outside of Hue city.
Emperor Tu Duc was a provident person, so he had his tomb built long before his death. That's why the process of building this tomb can be carried out carefully and thoughtfully. Tranquil grounds specially chosen are lined with lakes, lush-green flora, and pavilions where the Emperor himself would compose poetry. It took 3 years to finish and is indeed one of the most scenic royal tombs of the Nguyen Dynasty, one that very well worthy of being the resting place of a talented Emperor like Tu Duc himself.
A notable and unique feature in Khiem tomb is a 20-ton stele on which inscribed Tu Duc's own biography and composed by the Emperor Tu Duc himself. This is out of the ordinary because such steles should be traditionally written by the next Emperor who is the biological son of the late Emperor.
Emperor Khai Dinh's Tomb
Also known as Ứng Tomb. Situated at 49 Thuy Bang, Huong Thuy Commune, this mausoleum was the last one constructed during the Nguyen Dynasty. Since the 12th Emperor Khai Dinh had spent some time living in France, he combined both Western and Eastern architecture into his tomb.
Though it took 11 years for the construction to complete, it is totally worthwhile for the whole place is embraced by natural splendor – located on one of the Chau Mountains and among the greenness of pine, sugar cane, and cassava. Khai Dinh's Tomb is arguably the most impressive of all the Nguyen's Royal Tombs.
Thien Mu Pagoda
Thien Mu (also called Thieng Mu or Linh Mu) Pagoda was built during the 17th century to serve the purpose of worshiping a Celestial (Thien/Thieng/Linh) Lady (Mu). The pagoda is situated on Kim Long Road, Huong Long Ward. Because it sits on the banks of Huong River, guests have to visit the pagoda by plank boats. The construction contained only a pagoda until the brick, 21-meter high tower named Phuoc Duyen (formerly known as Tu Nhan) was added per orders of Thieu Tri – the 3rd Emperor of Nguyen Dynasty, in 1844.
Each level of this tower is to honor and worship one of the Buddha's in numerous human forms. Thien Mu Pagoda was elected as the Buddhists' important place for the congregation in the 1930s through 1940s. Here's something else you should know about this seven-story pagoda:
It is one of Hue's oldest, most impressive religious structures.
It is also one of Hue city's unofficial symbols.
It is housing the historic sedan in which the Bodhisattva Thich Quang Duc was driven to Saigon to self-immolate in 1963.
The admission is free.
It opens every day from 7.30am – 5.30pm.
Dong Ba Market
Dong Ba is Thua Thien Hue Province's and the neighbor regions' biggest (roughly 16,000m2) commercial center. Its location is on Tran Hung Dao Street, along Huong River's north bank. Dong Ba Market connects with Trang Tien Bridge and Gia Hoi Bridge at its respective ends.
In 1887, the 9th Emperor of Nguyen Dynasty – Dong Khanh, renamed it Dong Ba Market and became the main food resource for the commoners, as well as the royals in the palaces, and other departments. Even though there have been several projects applied to Dong Ba Market earlier – since the 20th century, many old features are remained and preserved. One of the iconic features is the ancient bell tower stands in the middle of the old building complexes.
Today, Dong Ba Market still takes the role of an important place providing goods for Hue and other cities. But its attraction isn't in the historic architecture but the daily pace and the bustling atmosphere. This is definitely a must-stop of any travelers! After all, what's the point of going for a vacation without paying a visit to the place's biggest trading center? Here, you can see typical trading methods besides purchasing some specialties, traditional foods, and cultural souvenirs of Hue. No matter how ancient the gifts are, as long as they remain until this day, they can all be found here, in Dong Ba Market.
Special Cuisines
Hue city has its own cuisine that many locals and visitors consider to be the finest Vietnamese food around for many of those were once served exclusively to the royalties of Nguyen Dynasty.
Bún Bò (Beef Vermicelli)
Its full name is Bún Bò Huế (Hue Beef Vermicelli). Such a name has said it all, hasn't it? – That this is obviously the place's most typical specialty and is so "Hue" that they named it so to remind diners of the area where it originally comes from. In fact, this particular dish is already listed as one of the top 50 most delicious dishes in the world.
Main ingredients:
Big-size vermicelli
Meat: beef, pig's leg, and tailbone
Vegetables: large onion, fennel, lemongrass, bean sprout, scallion, etc.
Entremets: shrimp paste, chili powder, lemon, fresh chilies, etc.
Cơm Hến (Tiny Mussel Rice)
This is a famous rustic dish which can be found every corner in Hue. Mussel Rice is the most familiar, simplest yet very delectable dish of Vietnam's central region. Many Vietnamese households selected Mussel Rice as one of their main, everyday courses.
Main ingredients:
Rice
Tiny mussel
Vegetables: julienned banana flower, mint leaves, basil, pennywort, coriander, etc.
Entremets: roasted peanuts, milled chili, sour star fruit, ginger, dried pig's skin, etc.
Bánh Bèo (Duckweed-Shaped Cake)
This is one of Hue's specialties that is favored nationwide. The palatable, rustic cake has such a name because of its particular shape which is rounded and thin like the duckweed.
Main ingredients:
The cake: rice flour, chestnut starch
Shrimps
Entremets: dried pig's skin, fried bread
Interesting Activities
Self-Guided Tour
What to do in Hue, other than sightseeing and trying its unique dishes? Remember, this is a culture-rich land, so the answer is many! For example, if you already know what to do in Hue and happen to be in an adventurous mood, you can discover this poetic place on your own rather than the strict schedule set in a tour.
Renting a bike, scooter, or motorbike may be a win-win option for you. For the fees are often cheap, and the shop may even provide you with advice, as well as basic accessories (e.g., maps, gloves, helmet, etc.) needed for the self-guided tour. You can ride the famous Hai Van pass – a natural border separating Hue from Danang. This is a stunning twisting road with lots of viewpoints for breathtaking ocean scenery.
If you like golf sport, you do not forget to play golf in Laguna Lang Co Golf Resort, it's only 60 km from Hue City. That is fantastic.
Fun Festivals
If you happen to travel Hue in April to June, you're in luck for these are the months where big-to-biggest festivals of Vietnam are organized in Hue. The most significant of all is the Hue Festival, which is held every two years in late April, to recall and honor the traditional values in Hue's cultures. Visitors can enjoy and join in many cultural performances and games during this occasion.
Rain Admiring
Is a poetic way to say "stay indoors and do nothing in particular." That is, if your trip happens to fall in the rainy season. But it isn't as boring an activity as it sounds, I assure you! Quite the contrary, "Hue Rain" is actually one of Hue city's specialties due to its beauty (i.e., clear sky, gentle rains) and the typical effects (i.e., melancholic, romantic) it has on people whenever it occurs.
The best way to enjoy such charming weather is to sit down at a cozy café shop with a flavorsome Hue dessert, looking out the window to see how the streets are painted colorfully by the local people, who wear motley ponchos while moving on the streets.