Ba Na Hills Golf Club
18 hole, Par 72, Luke Donald, Length 7185m, 7858 yards, Parkland
Ba Na Hills Golf Club
The Amazing Golfing Experience In Vietnam
As the name suggests, this mountain golf club is located at the foothills and lush native forests of the impressive Ba Na Hills.
It'd be more convenient if your landing destination is the International Airport of Danang. That's because it'll just need another 25-minute drive to get to the Ba Na Hills Golf Club.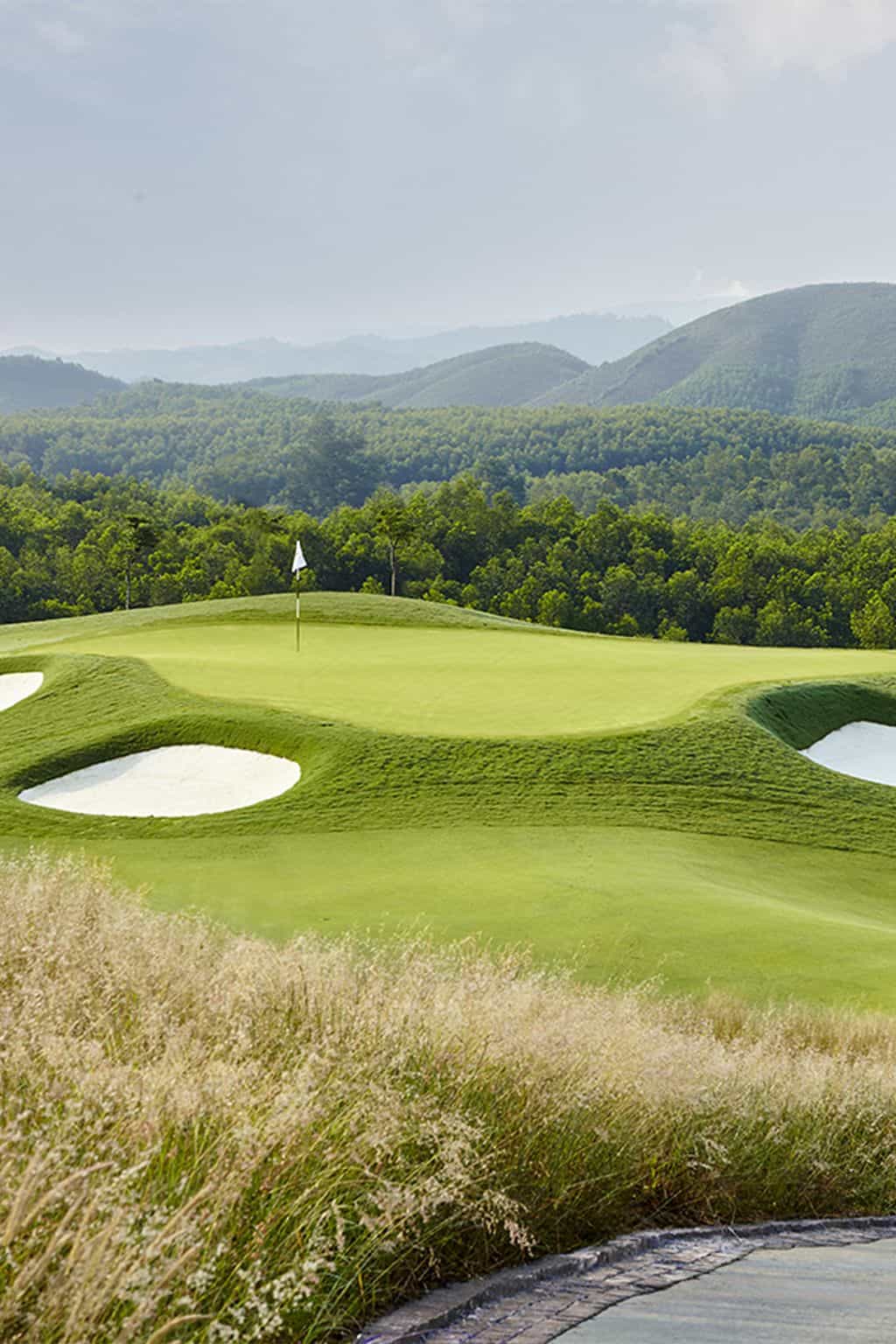 About Ba Na Hills Golf Club
Officially opened in March 2016, the championship golf site of Ba Na Hills features 18 holes, par 72 and stretches for 7,858 yards. It promises golfers of all levels a harmony of challenges, relaxation, and enjoyment.
On the outskirts of Danang, the massive course blends rolling landscape with mountains, vegetation, streams, and lakes. In general, this arrangement gives off a striking impression that visitors cannot forget once they have arrived at Ba Na Hills Golf Club.
Luke Donald – the world's former best golfer – is the Ba Na Hills Golf Club's designer. As such, this mountain course is his first work ever and destined to become one of the finest golf courses in Asia.
But Ba Na Hills Golf Club is not like Luke's other works in the region – those he modeled in conjunction with IMG. Particularly, a special trait of Ba Na Hills Golf Club is that its location was intentionally selected to serve the purpose of avoiding the wind. Therefore, the course will play in a cooler setting but void of wind, at elevation, and away from the coastline.
No golfers expect any less from a golf site of Luke Donald's design. And, in turn, the championship course hasn't disappointed its guests, either. It's no wonder why the world-class facility has been showered with many positive feedbacks and adoration from golfers worldwide.
Weekday
Valid to Feb 29th, 2020
Included: green fee, caddie fee, share cart for 18 hole

Tax & Services
Weekend
Valid to Feb 29th, 2020
Include: green fee, caddie fee, share cart for 18 hole

Tax & Service charge
Weekday
From March 15th to Oct 31th, 2020
Included: green fee, caddie fee, share cart for 18 hole

Tax & Services
Weekend
From March 15th to Oct 31th, 2020
Include: green fee, caddie fee, share cart for 18 hole

Tax & Service charge
Design Features
The geographical characteristics of Ba Na Hills Golf Club give the site a good deal of elevation change. It is set among the most grandiose mountain ranges in the area. Aside from that, there're many features belonged to nature like old hardwood trees, creeks and streams meandering through some of the golf holes.
Moreover, the breathtaking background and beautiful setting embracing Ba Na Hills Golf Club manifest in the diverse combination of natural vegetation as well as topography. Each hole and vantage point on the vast course is framed by a scenic backdrop contributed by the local native forest. Standing by the holes at higher elevations, players will have nice vantage places with astonishing views of the peaceful valleys below.
As stated above, the championship course will prove to be worth-playing with its 5 sets of tees available to ensure a satisfying round of golf for every player of all standards and levels. The promise of a balance between challenges and excitement lied on respective kind of tees scattered on this over-7,000-yard golf course.
As it is, included in Ba Na Hills Golf Club's longest layout in Vietnam, there're 5,857 yards from the "tees of professional" together with 6,022 yards from the more lenient tees. Not to mention a good mixture and variety of playing lengths creates the unique experience for each hole.
The uninterrupted chain of undulating and small greens here and there makes up Ba Na Hills Golf Club's many challenging holes. Some that are able to test even the very best of golfers. The different lengths of any hole and various lies are the results of the elevations changes and the rolling hills. This ensures the use of different, fitting shots until the last hole.
Ba Na Hills Golf Club's bunkers, greens and fairways are all carefully arranged and well-maintained. In which, bunkering at this site is unique with long grass surrounds each hazard's edges and face. The greens are just slightly undulated and angled from the broad fairways. There are various approach shots as well as pin positions. As for the fine sand here, it's only somewhat visible from the fairway and the tees approach shots.
The most memorable holes of Ba Na Hills Golf Club are the hole 4 – par 5, and hole 5 – par 5. But out of the two, only the former is reachable in two. Whereas the hole 5 – par 5 is long and it starts off with a carry over the water entailed by two long, tactful struck irons or hybrids in order to reach the defended green in regulation.
A more lenient hole is the hole 10 – par 4 which plays upwards onto one of the huge golf course's highest points. Regarding the most picturesque areas at Ba Na Hills Golf Club, the hole 12 – par 3, which goes the opposite way downhill, shouldn't be excluded.
Other Services
Dining Places
After an unforgettable round of golf, players can stop by the well-equipped clubhouse's restaurant to replenish their energy with a wonderful meal or some snacks. While enjoying the delicacies of both Vietnamese and international styles, the guests can take time to admire the panoramic views of the vast golf course.
Those who wish to both relax and watch their golf buddies play while also prefer to remain outdoor, then The Terrace is the best option. This is an outdoor seated area not far from the 18th green. Otherwise, they can go to one of the clubhouse's spacious, 25-seat, private dining rooms if the guests wish for seclusion.
On hole 4 and 15, there're kiosks with an abundant supply of food and beverage available. Additionally, there're also free Wifi and air conditioning – Simply the best place to take a break and cool off!
Pro Shop
As expected from a superior system, Ba Na Hills Golf Club's pro shop has selections of only international brands. Here, golf players can find their next high-class golf clubs, accessories, and clothing of well-known brands such as Puma, Titleist, Cobra, and Foot-joy.
The courteous and knowledgeable team of PGA Professionals, who are certified Titleist Club Fitters, are always ready to assist and offer personalized advice about which golf clubs set may best suit the guest.
Equipment rental service is available at the pro shop, as well. Golf players of all levels can choose to hire golf gears from a wide range of designs – usually in the selection of Cobra and Titleist golf clubs available.
Though advance booking is recommended, it'll be well worth the trouble.
Locker Room
The locker rooms of Ba Na Hills Golf Club are cozily designed and furnished with the highest quality amenities. Here're what the state-of-the-art establishment has to offer:
Lockers for male players (quantity: 220 – fully staffed)
Lockers for female players (quantity: 60 – fully staffed)
Individual showers
Restrooms
Other than that, there're also a sauna, massage and spa, laundry and shoe cleaning service ready to meet exhausted golfers' every need.
Driving Range
Golfers come to this highest standard place of Ba Na Hills Golf Club to receive instructions, advice, and practice golf. The driving range's world-class practice facilities are expressed in the following features:
18 bays
5 greens
8 bunkers
310 yards long
USGA-standard practice chipping
Putting areas
Golf shop
All-weather hitting bays
Short game facility
2 state-of-the-art golf teaching studios
PGA Professional onsite
F&B kiosk
Change rooms (male and female)
Additionally, Ba Na Hills Golf's driving range also offers rental for both adult and children's clubs.
Gofers are welcome to use these facilities 7 days a week. The coaching zone is ready to receive guests from 8:00 AM – 5:00 PM, or by appointment if you arrive outside these set times.
Out of those key features, another most prominent trait is the driving range is floodlit and that it opens every days of the week, from 6:00 AM to 7:00 PM.
Night Golf
Ba Na Hills Golf Club is so far the only golf course in Da Nang that features this special kind of service. Specifically, the entire course's 18 holes are comprehensive floodlit. So golfers can go on and enjoy their game undisturbed after sunset, or those players who opt for night golf because of its budget offers.
On selected days, the lights will be turned on until 9:00 PM.
Awards
2018
Rank #2 in Top 10 Leading golf courses in Vietnam (by Vietnam Tourism Awards)
2017
"World's Best New Course" at the World Golf Awards in Portugal
"Best New Course in the Asia Pacific" at the Asia Pacific Golf Summit in Thailand
"Best New Course 2016-2017" at the annual VietnamGolf Magazine Awards
"Asia's Best Golf Course" at the World Golf Awards 2017
2016
"World's Best New Golf Course" at the annual VietnamGolf Magazine Awards
Promotion
Ba Na Hills Golf Club Gallery
Ba Na Hills Golf Club Map
Ba Na Hill Golf Club
This is Ba Na Hills Golf Club, Danang, Vietnam
Keep in Touch
Thank you for putting your trust in us! We have truly enjoyed working with you, and I really hope that you are 100 percent satisfied with our service. Please refer your friends and family, and We will gladly provide the same, quality service. If you have any suggestions for improvement, We would love to hear from you! Keep in touch!
Other golf courses in Danang