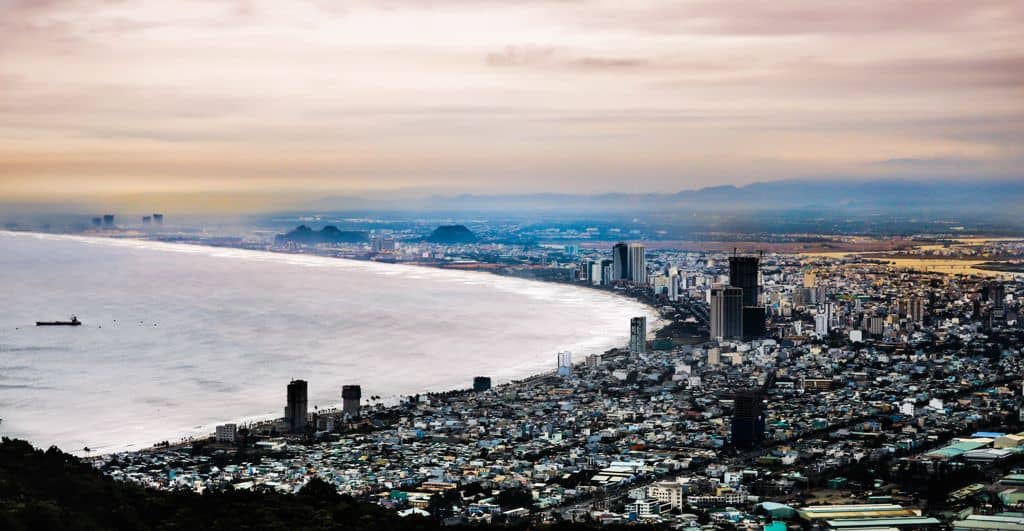 Terms and Conditions
Please make sure that you have read, understood, and agreed with all terms and conditions before booking.
The terms "we", "us", "our" are referred to Asia Travel Service, and the term "you" and "customer" is referred to the holidaymakers who purchase and use any holiday service on this site.
Your purchase of any golf package holiday or tour or other tourist services (hereinafter referred to as The Services) displayed on this website and our confirmation that The Services are available shall constitute a legal agreement between you and Asia Travel Service. The booking terms and conditions form the contract between you and Asia Travel Service and govern the terms on which The Services are offered and sold on this site. All communication and confirmation documents (by email, or website, etc.) between the customer and Asia Travel Service shall constitute annexes and appendices to the contract.
Who can buy trips on www.dananggolfpackage.com?
This site and all the services are only available to people and parties that lawfully enter into and form contracts under Vietnam laws. You must be aged 18 years old or more to book a holiday service on this site and there must be at least one adult (18 years old or more) traveling on any tour. Any booking made in contravention of this rule will be notified and cancelled.
-If you are travel agent or tour operator, please visit our B2B web site www.dananggolfpackage.com and give us your contact details.
-For pregnant customers, before confirming your booking please check to ascertain whether the airline on which you will be flying will accept your reservation as restrictions may apply.
-Persons with disabilities must contact us as soon as possible before any tour to determine if the particular tour would be appropriate, to discuss what reasonable accommodations may be provided and to give us the opportunity to prepare such reasonable accommodations.
In many countries public facilities and accommodations for persons with disabilities will cause difficulties, restrictions and hardships over which we will have no control. In addition, we cannot provide personal devices or individually prescribed devices, nor can we provide services of a personal nature, such as assistance in eating, toileting or dressing. In some cases it may be appropriate to bring a personal assistant. If you have a disability and do not contact us sufficiently in advance of a tour, we may not be able to accommodate you on a tour and you could be asked to leave the tour.
How to make a booking
Please submit us a completed reservation form online. You may also submit your completed written reservation form by fax or mail. Reservation by phone is not accepted. Asia Travel Service will try every effort to give you our feedback within 48 working hours on receipt of your request. Below is a sample form of booking. You are required to fill in all fields.
Sample of reservation form
Your information
Full name [ * ]
Email [ * ]
Phone [ * ]
Address [ * ]
Country
Your services
Tour name
Start day [ * ]
Number of pax [ * ]
Request
Optional
Thank you for providing us with more information to serve you better
Categories with [ * ] are obligatory
Price
The prices of the services displayed in this site are in VND unless otherwise specified, and they are based on costs, charges, tariffs, rates, prices, taxes, levies and exchange rates as the current travel season. Should these costs change, a surcharge may be made on the price of your holiday. If the total tour price increases by more than 10%, holiday makers will have the right to cancel within seven days of notification of the surcharge without penalty. No surcharges in respect of tourist service cost or currency fluctuations will be made once full payment of your land tour is received. This guarantee excludes fuel surcharges, airfare increases, train fare increases and does not apply to any taxes, charges, or levies imposed by the government or its agencies. In exchange for these guarantees no refund will be made if costs are reduced.
All prices, unless otherwise stated, are per person fares based on two adults sharing a hotel room or a cruise cabin. Single booking will be charged a single supplement cost.
Children
Unless otherwise indicated, child costs are restricted to children under10 of age at the time of arrival, sharing a room with 2 adults without an extra bed.
Normally, children enjoy discounts in accommodation and transportation services and in meal sets. In order to be advised on children discounts, customers are required to provide us with details about children accompaniment, including the number and ages of accompanying children.
Insurance
Travel Insurance is mandatory for the Clients whilst on a tour conducted by Asia Travel Service. The Clients are able to arrange travel insurance on their own and responsible for ensuring that they are in possession of private travel insurance with protection for the full duration of the tour in respect of at least medical expenses, injury, death, repatriation, cancellation, curtailment and loss of luggage and personal effects, with adequate cover. We strongly recommend that you take out travel insurance at the time of booking.
If you wish to have this valuable protection, please keep Asia Travel Service advised at the time of booking.
Deposit & Payment
Forms of payment: in cash, by bank transfer or by credit card (Visa, Master and JCB are acceptable). For each bank transfer, the bank commission is to be paid by each party on its own side.
If payment is made by bank transfer, please transfer the amount into Asia Travel Service
account with details below and send us a copy of bank transfer. Bank fee is to be paid by each side and the currency rate is to be based on the Vietcombank's rate at the period of payment.
Account & Beneficiary name: Asia Travel Service JSC
AC No: 0541370304453 (US$)
Bank name: Joint Stock Commercial Bank for Foreign Trade of Vietnam (Vietcombank), Branch Chuong Duong
Address: 564 Nguyen Van Cu, Ngoc Lam, Long Bien, Ha Noi, Vietnam
Swift code: BFTV VNVX
If payment is made by credit card, Just follows the guideline on booking online steps.
Deposit: Upon confirmation of your tour (which means that an official payment has been made), a deposit of 50%-70% of the total fee is required within seven business days or less if there is any special note for the deposit.
Final Payment: Final Payment is due 60 days before first day arrival. Failure to comply with these deposit and final payment requirements will result in automatic cancellation of the reservation and penalty charges will apply.
Late Reservation: A full payment is due immediately upon your tour confirmation if the reservation is made 45 days or less before first day arrival.
Important note: For M.I.C.E. group(s), Ad-hoc group(s), or FIT group(s) with special requests, deposit and payment terms shall be advised on case-by-case basis.
Reservation amendments
The first two amendments to any confirmed reservation/tour itinerary are free of administration fee. Each amendment thereafter is subject to an administration fee of VND 500,000 (US$ 22) per booking per change. If new documents are required, the VND 500,000 (US$ 22) fee shall also apply. Changes are subject to availability. No amendments are permitted to your booking within 7 days of arrival.
If a client is unable to travel, in certain circumstances which we consider reasonable, the booking may be transferred to another suitable person; however the tour arrangements must remain the same and will only be allowed if all suppliers (eg. hotels, land transport companies, airlines, etc.) agree to accept the name change.
As a result of any amendment, in addition to administration fees, you shall be charged any price increase, additional cost incurred and/or cancellation fee imposed by suppliers (eg. hotels, land transport companies, airlines, etc.).
Special Requests
Special requests, including but not limited to room locations, adjoining rooms, bed references, in-flight meal requirements, in-flight seat requirements, changes in tour program for your personal needs and interests, etc. are subject to tourist service availability and tourist service confirmation by third party suppliers concerned. While we will attempt to accommodate such special requests, we cannot be held responsible if they remain unsatisfied.
Customs and Immigration
Customs and/or immigration officials can, at their own discretion, deny the holidaymaker entry into their country. A criminal record could be an obstacle in international travel, leading to a denial of entry. Asia Travel Service cannot be held responsible for a denial of entry under any circumstances, and refunds will not be provided.
Documentation
It is the holidaymaker's responsibility to obtain, at his or her own expense, all documentation required by all relevant government authorities. It is suggested that the customers be in possession of, a valid passport and correct visas and vaccination certificates required for the whole of their journey. Please ensure your passport is valid for 6 months beyond the duration of the trip. Our staff can consult and assist you about required documentation (such as entry visa into Vietnam…); information about these matters or related items (climate, clothing, baggage, personal gear etc) is given in good faith. Nonetheless we do not hold any responsibility in consulting and assisting, except for agreement between our staff and holidaymakers in advanced. In case that the holidaymaker does not possess the documentation required by the destination or by Asia Travel Service, we reserve the right to refuse operating the tour and the refund will be based on the cancelled services.
Your travel voucher and related documentation (if any) will be sent to you by fax or email prior to arrival. The original copy of your travel voucher will be handed to you upon your arrival. Please read this information carefully and immediately and contact us if you find something unclear or incorrect.
Arrival & Departure Flights
Holidaymakers are responsible for all travel arrangements and costs to/from the point of commencement/conclusion of the services, including international flights to/from the country they are going to visit. The tour would be started due to announced time, should you arrive late, and neither would we be responsible for any part of the tour that you would miss, nor would we provide any refund to you. It is your responsibility to provide us with the accurate information of your arrival & departure flights for good service performance.
All flight times, flight itineraries and carriers are subject to change, with or without prior notice. Asia Travel Service is not held responsible for any impact on the tour program that is caused by flight schedule changes.
Health requirements
Customers should take into account all international travel risks and familiarize themselves with health requirements applicable to the areas they intend to visit. The customer is solely responsible for checking the safety and security conditions, vaccination, and other health requirements of governments in countries visited or transited.
Accommodation and Services
Asia Travel Service is not responsible if some of the services, bonus features or facilities described on this site cease to be available, are not operating or fail for any reason, hotels may remove or alter some facilities without notice, usually for purpose of ongoing maintenance and improvement. Use of recreation equipment and facilities, which may be included in your holiday package, is subject to their availability at the time of your visit. No guarantees can be provided with regard to specific requirements concerning room or cabin location and other special requests, and in most cases, the satisfaction of special requests cannot be confirmed prior to departure.
Refunds
No refunds or adjustments will be made for segments of the trip not taken or used.
Complaints and Claims
You will be met upon your arrival at the destination by Asia Travel Service's representative. If you have any queries or problems, please contact our representative and/ or our offices. Please address your complaints directly to Asia Travel Service office from which you have bought the tour. Do not wait until you return home. Failure to complain on the spot will result in the possibility to be extinguished or at least reduced of the claim compensation from Asia Travel Service.
The holidaymaker agrees that any claim field against Asia Travel Service shall be made by himself/herself in writing, emailing or faxing and received by Asia Travel Service no later than 30 days after the event causing the claim. Asia Travel Service will not be liable to claims or demands made more than 30 days after the event in question. Under no circumstances shall anyone claim from Asia Travel Service any amount in excess of the actual costs of their vacation.
Responsibilities of Asia Travel Service
Asia Travel Service makes arrangements with airlines, railways companies, coach companies, hotels and other independent parties to provide you with the services and other services you purchase. Although Asia Travel Service take reasonable care in selecting these suppliers, Asia Travel Service do not have any control over them and therefore cannot be responsible for their acts or omissions. Whilst Asia Travel Service cannot accept any responsibility for any loss as a result of such actions or as a result of any act or omission of any such third-party, Asia Travel Service will give reasonable assistance in helping to resolve any reasonable dispute.
Asia Travel Service is not liable for any loss, injury, or damage to person, property, alteration of itineraries or cancellation in part or in full, caused by force majors including but not limited to climatic conditions, breakdown of machinery or equipment, acts of government or other authorities, wars whether or not declared, civil disturbances, strikes, riots, thefts, epidemics, quarantines, medical or customs regulations, terrorist activities, changes imposed by re-scheduling or cancellation of transportation by the transport suppliers (flights by airlines or main carriers), the alteration of airlines or aircraft types; or any other actions, omissions or conditions beyond our control.
We shall not be or become liable or responsible for any additional expenses of liability sustained or incurred by the customers as a result of any of the aforementioned causes.
During the process of improving tour itineraries and features, Asia Travel Service reserves the right to substitute hotels, flights, or cruise ships, to alter itineraries, or to cancel the tour prior to departure.
If a major change is necessary or deemed advisable, Asia Travel Service will inform the customers as soon as reasonably possible. A major change does not apply to a change of carrier, transport or named accommodation, but is normally considered to be a major itinerary re-routing, or a significant change in the duration of your holiday.
The customers will have the choice of accepting the variations (at additional cost if applicable), purchasing another available tour from Asia Travel Service, or canceling the tour with a full refund. Provided that the major change is not as a result of situations outside Asia Travel Service's control (as mentioned above), compensation will be paid as follows:
Period of notification Compensation given to the customer (per person)
More than 30 days : Nil
29-15 days: US$30
14 days-date of arrival: US$40
Asia Travel Service reserves the right to cancel a tour in any circumstances but will not cancel a tour less than 30 days prior to first day arrival except for force majors, or events beyond Asia Travel Service's control, or the holidaymaker's failure to settle the final payment. Unless the holidaymaker fails to pay the final balance, or in case of force major or events beyond our control including the cancellation determinant of the customers, Asia Travel Service, upon cancellation, will be liable for a full refund of the money received by us, or offer an alternative tour of comparable standard and will pay compensation on the scale shown above.
We will respect the privacy of your data that you supply to us. We will comply with all applicable data protection legislation in respect of it. You agree to keep your data accurate and up-to-date and promptly to send us any new or revised personal data. Your further agree that we may use your personal data. Our security measures depend on you complying with this obligation and we are not responsible for any breach of your privacy due to your failure either to keep your password secret or to use other security devices correctly. Nor are we responsible for breaches of security arising out of intentional and/or unauthorized attempts to access the site, for example, by computer hackers.
ASIA TRAVEL SERVICE JSC
Head Office: No 6 Group 70, Tam Trinh Road, Hoang Van Thu Ward, Hoang Mai Dist, Hanoi, 10000, Vietnam
Tel: (++8424) 3312 0407 /09/ 3350 6987 – Hotline: +84989867398
Website: https://dananggolfpackage.com
Email: info@danangolfpackage.com or asiatravel.dn@gmail.com